Our outside living area has admittedly been neglected for the past several years. Actually, nothing has really been updated since we moved in. Well, all that is about to change this year because I am on a mission to update our entire outdoor living area…but on a budget. Enter Target. Is it just me or do their products get better each year? I have a small metal outdoor set of two chairs and a table and this thing has lasted for at least 7 years now. A fresh coat of spray paint has literally been all that it has needed. So in my mind, style and affordability AND quality is a no-brainer when choosing something like outdoor furniture, which can be ridiculously expensive.
While I would love to furnish the whole outside, the main focus is the deck right outside our kitchen/dining area. Our deck gets so scorching hot in the summer that it hurts to walk out in bare feet. Having two little ones who LOVE to be outside, this is not an ideal situation. The first step to alleviating this situation is an outdoor carpet. I have searched high and low and have not found one affordable (AND pretty) enough until looking at Target. The Threshold Blue Pattern Stripe is my absolute favorite.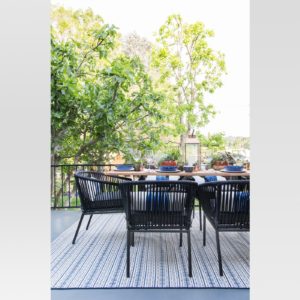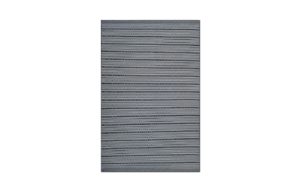 This adjustable pergola is exactly what we need for extra shade on our deck and is perfect for hanging some additional mood lighting from.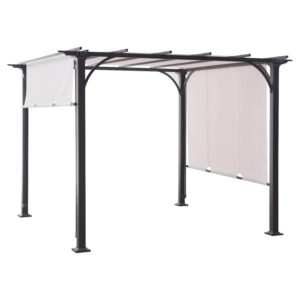 Now for the furniture. The set we currently have was a cheap wooden one from Overstock. And while it has been good to us and has a really nice weathered look to it, I'm going to go ahead and say it's not safe for use. We need something sturdy and that can withstand being outside all the time, even through the harsh Northeast winters. The Halsted Wicker Set fits our budget and is the perfect size for the deck. The style is also modern with some softness to the edges, which I love.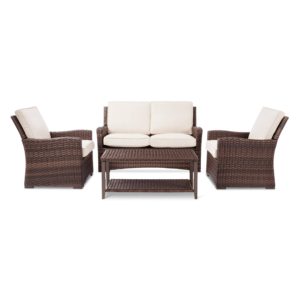 I still need to find a fair amount of accessories but these are two large components of the base of the makeover. As much as I'd love to stick with blue and white I would really like to add some bright color (maybe orange) for contrast. Here is a mock up I put together using color in accessories but using all the other large pieces I am eyeing up.
Smith + Hawken Decorative String Lights // Dwell Navy Geo Pillow // Dwell Navy Texture Pillow // Veranda Pavilion Fretwork Pillow // Safavieh Sines Garden Stool // Safavieh Maddalena Garden Stool